Peter Muir was elected as the new UIAA president, becomes the 14th pre…
페이지 정보
작성자
UAAA
댓글
0
조회
1,422회
작성일

20-11-04 16:46
본문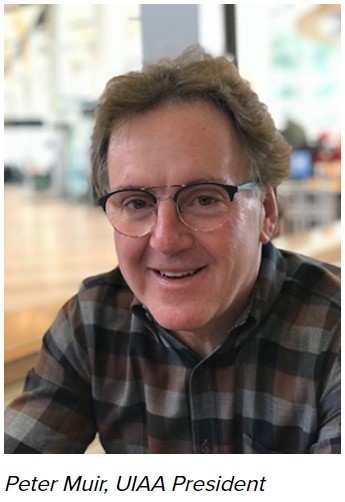 Peter Muir from the Alpine Club of Canada (ACC) was elected as the new President of the UIAA. Muir becomes the UIAA's 14th President (including two Acting Presidents) and the second from Canada at the UIAA General Assembly on Oct. 24th.  Muir succeeds Frits Vrijlandt, Royal Dutch Climbing and Mountaineering Club (NKBV), Netherlands as UIAA President. Vrijlandt's second and, as defined in the UIAA Articles of Association, final four-year term came to an end at this year's General Assembly.
In his brief opening address, Muir said: "Thank you all for the faith you have expressed in me. I will work hard to meet a challenge that I take on with great enthusiasm. My message to all candidates and volunteers is that offering your time is appreciated and the most valuable thing you can give. Thank you to Frits for all of your contributions and dedication as UIAA President." Muir also paid tribute to the campaigns of Amit Chowdhury, now an EB member, and Peter Farkas, UIAA Mountaineering Commission President, who both ran for Presidency.
---
Comment List
There are no registered comments.