본문

| | |
| --- | --- |
| Title | Corea Alpine Club |
| Address | 119-7, Howon-dong, Uijeongbu-si, Gyeonggi-do, Korea |
| Tel/Fax | Tel : 0082-31-855-8848,837-8848 / FAX : 0082-31-855-1945 |
| Email | cac@cac.or.kr |
| Website | http://www.cac.or.kr |
About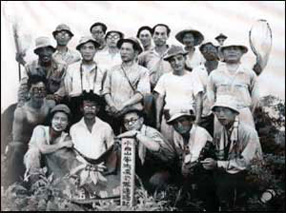 The Corea Alpine Club (CAC) is the largest mountaineers' organization in Korea. It was founded on September 15, 1945 by the members of Baekryung Climbing Club after the Korean liberation from Japanese rule. 
In the beginning, it was named Chosun Alpine Club, but was renamed Corea Alpine Club (CAC) after the formal Korean government was established in 1948. 

CAC's first activity by the members after its foundation was to climb Bibong peak of Mt. Pukan in commemoration of Korean independence. CAC also began research and exploration into Korea's land and mountain ranges that had been severely neglected and environmentally abused under Japanese rule. 

In 1953, in order to establish and expand a foundation for mountaineering, CAC sponsored a nationwide campaign for both mountain and ocean training workshops designed for high school students, In 1962, members of CAC formed the Federation of Korean Alpine Federation. 

KAF also served to play an important role in the initial period of the alpine club's activities in Korea. Until the end of the 1960's, CAC has been mainly responsible for carrying out the alpine activities in Korea. CAC is undeniably the oldest and largest alpine club in Korea and has been the main body for mountaineering.
Currently CAC's organization includes the main office in Seoul and 12 branch offices located around the Korean country side. It has 11 committees for different areas of activity.
 

One Of the more noteworthy activities is the CAC Alpine School which offers classes throughout the year. The 50 year old school enjoys a reputation of recognized alpine education superiority, and has produced many prominent alpine leaders in Korea. 
Current CAC's membership now reaches 4,000. It is proud of its heritage and history of contributions to the development of the alpine tradition in Korea. 
Upon entering the twenty-first century, CAC will continue the heritage and accomplishments achieved by those original alpine members, and will create the alpine movement and culture that can correspond to the spirit of the new coming era.
 
It will particularly pay attention to protection of the environment of the Korean mountains which are suffering from environmental abuse.
CAC works to promote friendships and communications between the members of other alpine clubs and other alpine enthusiasts in korea and abroad. Together with all the people who love mountains, we will do our best to continue the work of the Corea Alpine Club.