본문

| | |
| --- | --- |
| Title | Chinese Taipei Mountaineering Association |
| Address | Rm.703, No.20, Chu-Lun St., Taipei 10489, TAIWAN, R.O.C. |
| Tel/Fax | Tel : 00886-2-2751-0938 / FAX : 00886-2-2752-4741 |
| Email | alpine.club@msa.jinet.net |
| Website | http://www.alpineclub.org.tw |
About
Chinese Taipei Mountaineering Association (CTMA)
Date of Established: June 1969
http://www.alpineclub.org.tw
Mission :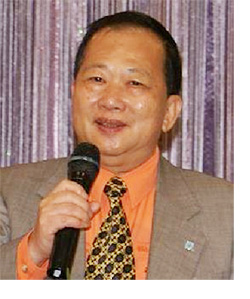 The objective of Chinese Taipei Mountaineering Association is to promote and development   hiking and mountaineering activities with mountain protection. also to study and explore  the science of mountaineering. To promote all the people to do sports is our eventual goal, let common people in good health as well to build  a sound society. 

President: Mr. Chen, Chin-Cheng  
Simplify Chronicle of Chinese Taipei mountaineering Association
1. Before 1969 Taiwan Mountaineering at scouting and promotion Period at early stage.
It was a tough time after World War II, very bad economical and poor political situation not so many people could b e interesting in mountaineering. One of a remarkable club is 「China Youth Alpine Association」established in 1953, they had done very good job for mountaineering promotion.
Regarding the contribution to Taiwan mountaineering there were four famous climbers worth to memorized that were Mr. Tsai Qin-Zhang, Mr. Xin Tien-Zheng, Mr. Lin Wen-An and Mr. Ding Tung-San.
In the Year of 1969「Taiwan Outdoor」Magazine was published by monthly issues. it played an important role of Taiwan mountaineering promotion and development. Unfortunately, it had run until 1988 almost 20 years,
2. 1969-1980 Mountaineering promotion & development period 
Chinese Taipei Mountaineering Association established in 1969. One of founder is General Yang Shen also the president of National Sports Federation with some elites in mountaineering.
There is a successful column traverse from South to North of Taiwan central range which became a milestone of mountaineering development. Since "the Club of Hundred Peaks" established in 1972, more and more people throw themselves into the high mountain activities.                                               
Several major events are worth to mention are first ascent of the north face YuShan  at winter time in 1979. Second, several mountain accidents were caused to death, five student climbers died in 1971 for storming weather, three student climbers missing in 1972 until today, and six climbers died in 1976 for extreme bad weather , all happened at the Chilai mountain area( Central range of Taiwan). The above accidents arouse more attention, so more mountain rescue and safety had been held , also more refuge hut been constructed.
After 1985 three high mountain National Parks was established , they devote lots of efforts to managing visitors and educate people, we can see the benefit is norm of mountain activities also more respect of mountain ethics.
3. 1981-1996 Modern technique & overseas mountaineering period
Significant achievement at this period are deeply exploration of Taiwan remote mountain area and very welcome of up-Stream climbing which is blooming at the time of earlier 80', some of major success are joint climbing with Japanese, e.g. Osaka Waraji Club, Waraji no Nakama, etc.
4. 1997-2010 Period of Diversity
To hold annual National Youth Mountaineering Conference since 1997. Time is a blooming of "Sport for all" activity. Overseas trekking & hiking are getting more attention, like trekking at Rocky Mountains in North America, Nepal Himalaya, Tibet, and XinJiang are very popular. For climbing purpose, first priority is Mt. McKinney Alaska, then Mt. Kinabaru at Sabah, Malaysia, Japan Alps and Tien Shan at Pamirs. 
The Challenge of Seven Summits, had done it in 2009.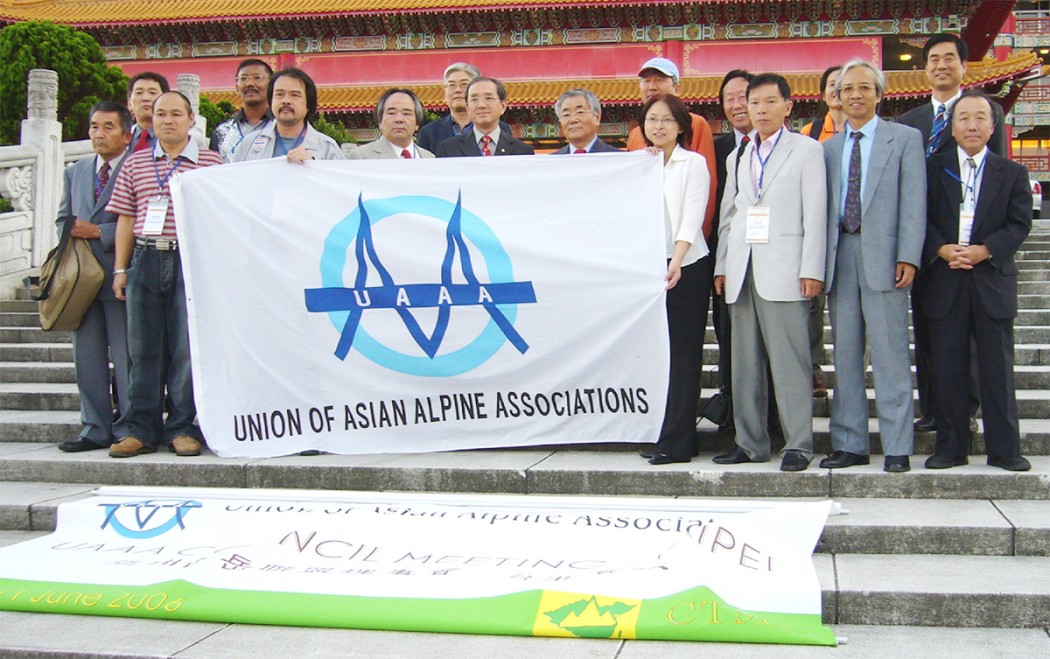 UAAA Council meeting was held at Taipei on mid of June in 2006, It is the first time  international mountaineering meeting hold at Taipei.
Year
Remark

 

1980

Mt. Parachamo 6315m,RolwalingHimalNepal(success) First time to reach Himalaya.
milestone

 

1983

Mt. 6772m,Gangotri,UttarPradesh, India(Success) (at the second round climbing team three perished before reaching summit)

 

Accident

1993

Tibetan side Everest 8848m ( success)Joint climbing with Chinese Mountaineering Association.
(first Taiwanese )

1996

Nepal side Everest 8848m(success)(one decease, another serious injury)

2000

Xishapanma peak 8012m(success)

2002

Tien Shan peak Formosa 4017m (success)

 

Un-climbed

2003

Khan Tengri 7010m (success)

2006

Tibetan Cho Oyu peak 8201m(success)

2009

Seven summits start on 2006 until 2009 (success)
1. At the year of 2000 we devote ourselves to promote「Sport for all」.
2. At the year of 2006 「Leave no Trace, LNT」 is well known in western countries. It was carried out by Taiwan Forest Bureau, we followed their steps to set up systems to educate people.
3. Due to 「Climate Change」and 「Globe warning」, at the year of 2010 CTMA propose 「Sustainable and Low Carbon Mountaineering」in Taiwan